The last time we went to Disney World, baby girl was THRILLED beyond belief to find out that with her shoes on, she was EXACTLY 44 inches tall. Do you know what that meant? It meant that she was officially tall enough to ride Expedition Everest in the Animal Kingdom. Oh how her prayers were answered. LOL. After hearing about how great it was from her two big sisters, she was so ready to ride it herself. Now I was a little nervous about this. Not because I was scared for me, but she was just so small! But she was ready and was not going to take waiting any longer.
I took my camera with me and tried to get a shot of her. I did, but it looks like we were really in the middle of a loop-de-loop when really it was just a bad shot. But that is ok. It is worth scrapbooking all the same.
See how the photo looks like we are in the middle of the ride?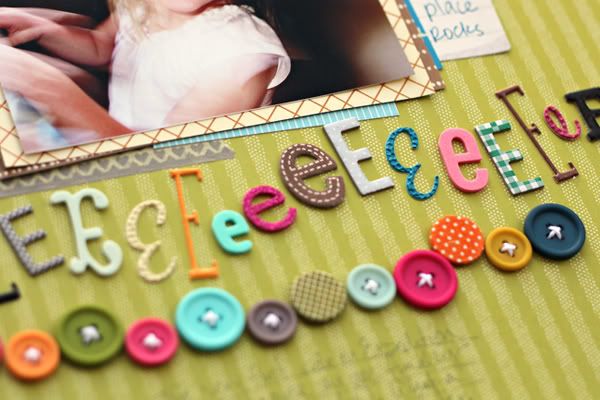 And I know I will be kicking myself at some point about using up all these "e" Thickers. But this title was important to the page!
Everything here is from
American Crafts
. It totally thrills me how the different lines are so mixable! And the different Thickers really are just a peek at my stash.
Thanks so much for stopping by!