I love rainbows. Of course, I love the real ones. When I was in St. Lucia years ago, I saw TWO in the sky at the same time. Amazing. I love it when you can see a rainbow in the spray of the garden hose. I love the beautiful multicolored rainbows my 5 year makes for me on a piece of printer paper with her markers. Rainbows are just cool. Which is probably why I think they are really fun to make with mists and other inks.
So I splurged on a bunch of new mists the other day. I bought a nice array of colors of the new
Dylusions Spray Inks
. I had heard these were really vibrant and that they are reactive with water (not that I get what that really means, but it sounds fun). Anyway, I was really just looking for the COLOR! So I got them, stabbed myself with a sharp pair of scissors trying to open them and then bled all over the place, but finally got to play. I made a rainbow.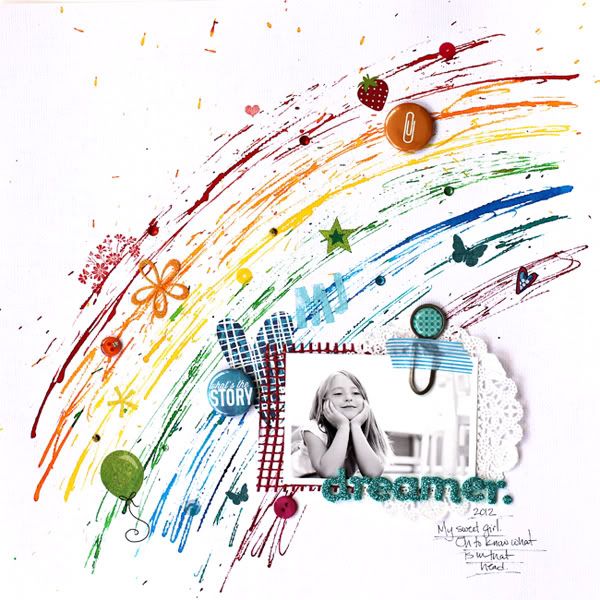 It is so bright and colorful. It makes me smile.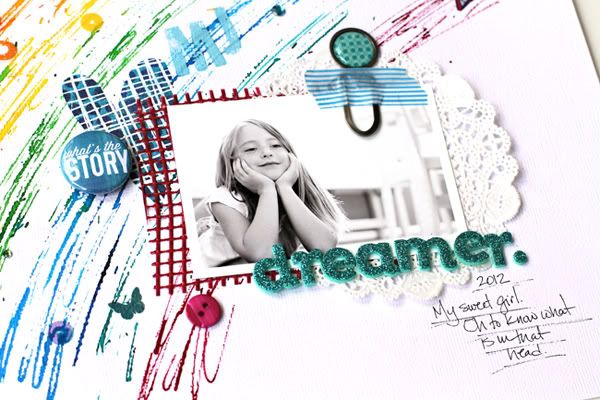 She makes me smile.
I did not mist this rainbow. Instead I took the top off and used the tube to draw the lines on. I rubbed them pretty good on the paper too which made some of it splatter around, which I thought looked cool. The colors really are vibrant. I do need to admit though, that my purple is not the
Dylusions
purple. It is
Mr. Hueys
. I am not really a purple girl, so I did not get the
Dylusions
one. Of course I did not realize I was going to make a rainbow right away with these at the time I ordered them, but if I had, I probably would have bought it too.
So what symbol or miracle of nature or cool thing is something that makes you happy or smile? Share!
Have a great day all! Thanks for stopping by!