In the new
Shoreline
collection from
American Crafts
there is a package of super cute summery die cut shapes. Some of them are journaling cards, but there are also things like a soda bottle and a snow cone. The colors are awesome and the summery theme is adorable. Anyway, I debated how to use these shapes. Do I spread them out over a bunch of different layouts, savoring each one but possibly not getting to use them all? Or do I just have a blast and use them all up on one page and be so excited that the package is empty? Well, I may wish I had more of the shapes later, but I went ahead and used them all!
For this layout, I sprayed some Lemonade Mr. Hueys on white cardstock then just layered shapes and tags around, under and over my photo! I did end up using a few other embellishment pieces as well like the cardstock stickers, dimensional stickers and a Dear Lizzy button, but no patterned paper.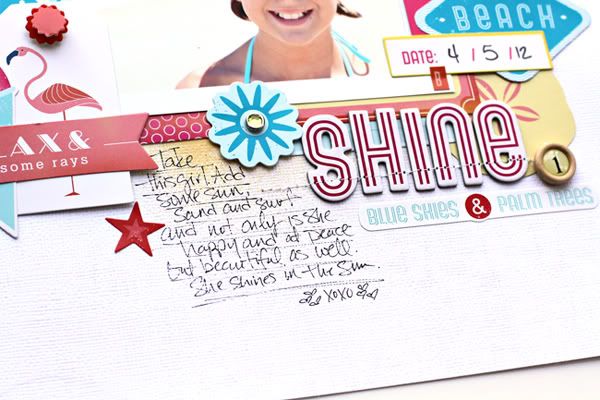 Well, this screams fun to me! I can't wait for my girl to see it. The colors and energy will make her happy.
So have you gone ahead and used a whole package of something on one page before?? I'd love to see it!
Thanks for stopping by all!